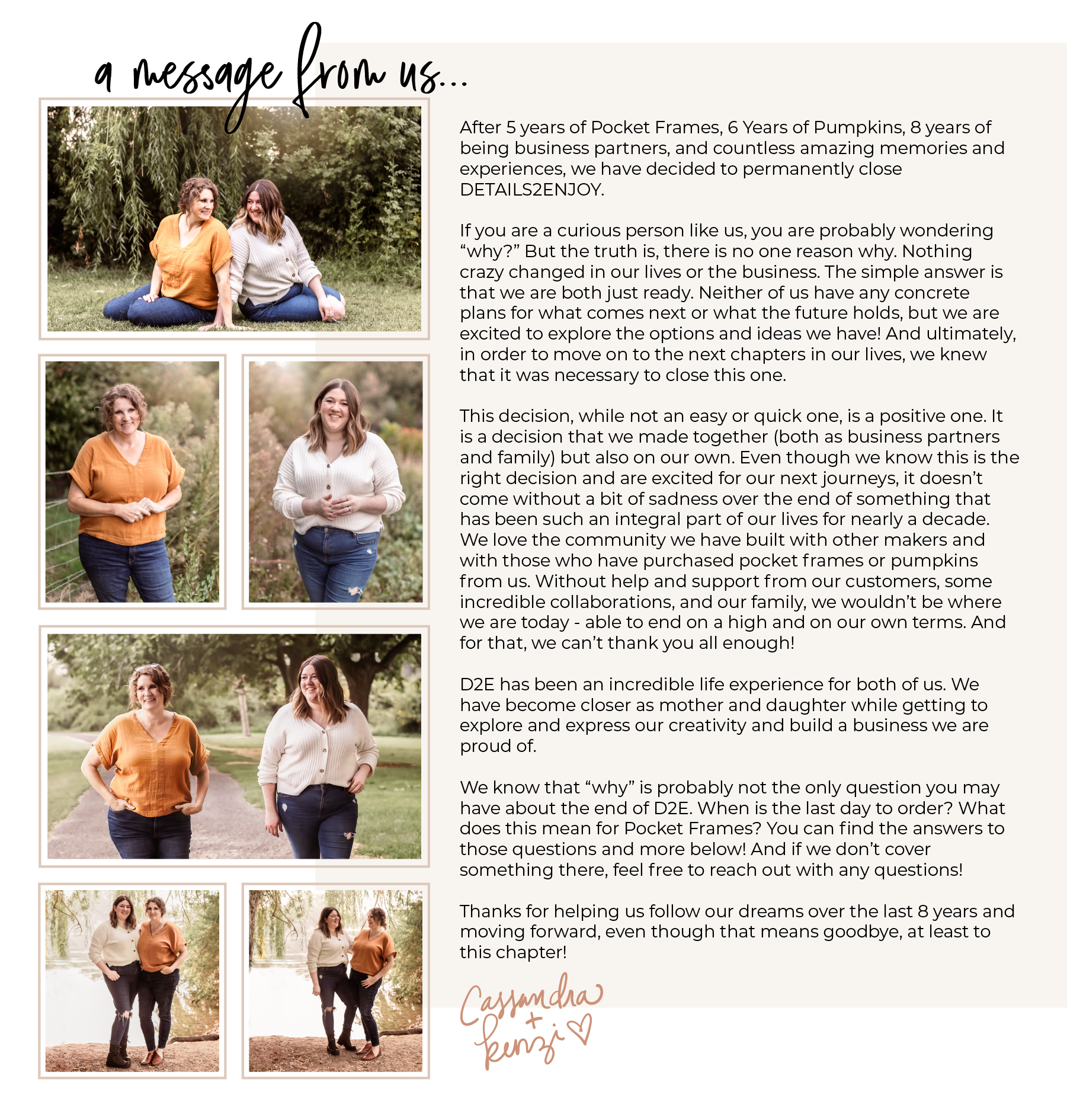 When is the last day to order?

We are no longer accepting any orders.

Can I get Pocket Frames somewhere else?

Unfortunately, Pocket Frames and Insert Kits are not available anywhere else. The 2 of us invented Pocket Frames and will be retaining all intellectual property rights to the design of the frames and kits.

Will D2E or Pocket Frames be coming back?

One of the phrases we live by is "never say never." However, we have decided that "DETAILS2ENJOY" as a business is complete and will not be coming back. This doesn't mean we would never work together again, or do another small business. But D2E as it is will not be returning. We are retaining the intellectual property rights to Pocket Frames for now and while we do not currently have plans for them to return, this may change in the future. One of the reasons we wanted to close was to have more freedom to explore what we want to do next. At this time, we aren't sure exactly what that looks like but we both have ideas we are exploring. If you want to hear from us about any future ventures, you can sign up for our email newsletter list!
Will you still have tutorials and photos available?

Our website will stay up for at least a year with our technique tutorials and photos of kits that we sold in 2021. After a year, these may be taken down. We also plan to keep our YouTube channel up as is.
All orders have been shipped.

Will unused gift cards be refunded?

Unfortunately we are not able to process refunds for unused gift cards.

What if I have questions?

We will be reachable via email at hello@details2enjoy.com until at least mid-December. Keep in mind that our replies may become less frequent. Moving into 2022, any email inquiries will be answered with an automated response with links to resources and answers to FAQs.
Will D2E still be on Instagram?

Instagram has been such an amazing community for us over the past 6 years. It is where we communicated with our customers, created friendships, and grew D2E into what it is. We are so appreciative of the platform and what it did for us. However, it is not something that we plan to continue - at least not for D2E. We will keep the DETAILS2ENJOY Instagram feed available for at least 6-12 months. However, we don't plan to post to it often, if at all. In the future, we may transition the account for whatever our next venture is and we'd love for you to stick around to see what we come up with next! In the meantime, you can also follow our personal accounts:
@garrison.1811
and
@jason.and.cassandra